Minimal OpenGL example in Clojure
10 Dec 2020
Two years ago I published a minimal OpenGL example in C. Recently I got renewed interest in the Clojure programming language (if you want to learn Clojure, I can recommend the book Clojure in Action by the way). I hope to do some game development in Clojure. Initially I tried JOGL (Java Bindings for OpenGL), but then I switched to LWJGL version 2 (Lightweight Java Game Library). There is a Debian package for LWJGL version 2 and there is extensive documentation on the LWJGL Wiki. Using this library, I have translated my earlier example to Clojure. See code below:
You can run the code as follows: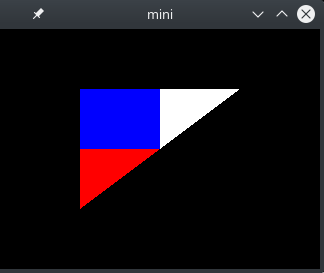 Any feedback, comments, and suggestions are welcome.
Enjoy!
Update:
If you are using Clojure 1.11 or later, you need to use a deps.edn file or specify the dependency on the command line like this: